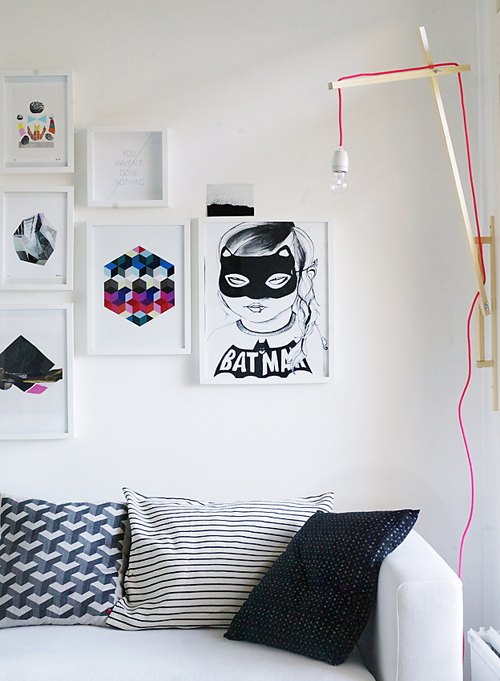 Many of the items is meant for the lamp. It is pretty simple, and if you have the courage, try to make it yourself. You just need some wood sticks, bulb, mounting, wire, plug and some butterfly bolts. You just adjust the hight and size, so it fits your needs and drill some holes. Then holder is simple and screwed to the wall. The wire, mounting and plug is connected and just added onto the wooden holder.
I have chosen not to have exactly the same pillows and posters as in the picture above, even though they can easily be acquired. This is just to show, that it is possible to use some other stuff but still get the same expression.
Translate: Mange af tingene er til lampen. Den er i sig selv rimelig enkel, og hvis du har mod på det, så kan du sagtens selv lave den. Du skal bare bruge nogle træ lister, bolte + skruer, en pære, stik og fatning. Du kan herved selv vælge højder alt efter hvor du bore hullerne længden på listerne. Når hullerne er boret så samles de med bolte og skrues på vægen. Lampen samles med de forskellige dele og lægges oven på holderen.
Jeg har valgt ikke at have nøjagtig de samme puder og billeder som på billedet ,selvom de sagtens kan erhverves. Dette er bare for at vise, at man sagtens kan benytte lidt andre ting men stadig få det samme udtryk. 
…Marie…
Picture tumblr.