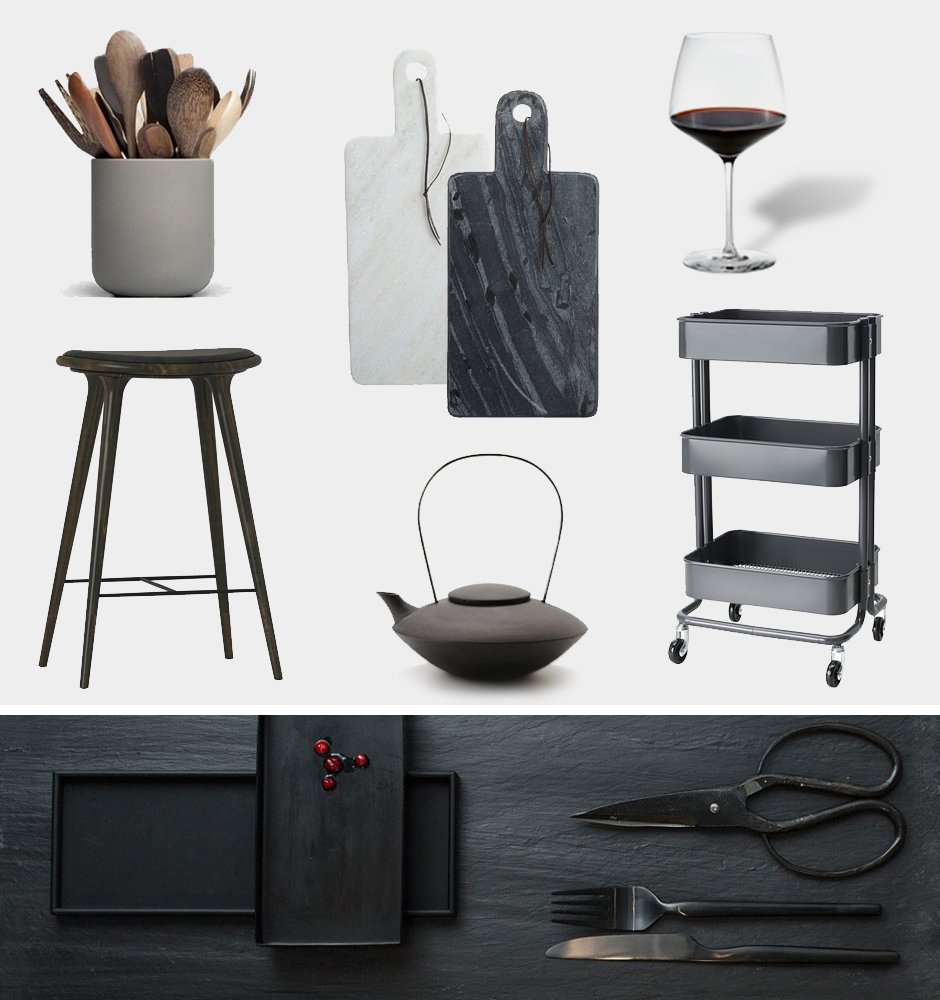 Such a free Sunday could easily be used in the kitchen making delicious food and pastries. Today, there is room for a little kitchen wish all budgets.
Ditte Fisher Teapot: It's a muk teapot in black or white . It is made of hard-fired porcelain , water cut which result in a characteristic trait soft surface . Vincent Van Duysen Jar: jars comes with beautiful solid wooden lid. The picture is however where the jar is used to contain pallets and spoons. House Doctor Cutting board: I love these, and they give a look by mixing materials such as wood and marble. Ikea trolley: Fine in a kitchen for extra storage. Holmegaard wine glasses : It always looks good to have some fine wine glasses, it does not have to be from Holmegaard. They've also got some really nice and large wine glasses at Ikea. Gense cutlery : A little unconventional cutlery in black, to a different table setting. Mater Bar chairs: These are so beautiful with their simple design, it is available in 3 different heights and made of 100 % sustainable design.
Translate: Sådan en fri søndag kunne sagtens bruges i køkkenet, til lækker mad og bagværk.  I dag er der plads til lidt køkken ønsker til alle budgetter.
Ditte Fisher Tekande: Det er en muk tekande i sort eller hvid. Den er lavet af hårdtbrændt porcelæn, vandslebet der resultere i en karakterisktisk blød overflade. Vincent Van Duysen Krukke: Krukkerne leveres med smukke massive trælåg. På billedet er den dog brugt til beholder af utensils. House Doctor Skærebræt: Jeg er vild med disse, og det giver en god effekt at blande materialer som træ og marmor. Ikea rullebord: Fint i et køkken til ekstra opbevaring. Holmegaard vinglas: Det ser altid godt ud at have nogle fine vinglas, det behøver ikke at være fra Holmegaard. De har også fået nogle rigtig fine og store vinglas i Ikea. Gense bestik: Lidt utraditionelt bestik i sort, til en anderledes opdækning. Mater Barstole: Disse er så flotte med deres enkle design, den findes i 3 forskellige højder, og  er 100% bæredygtigt design.
…. Marie ….